RECIPE
Hacks for a Healthier Halloween Snack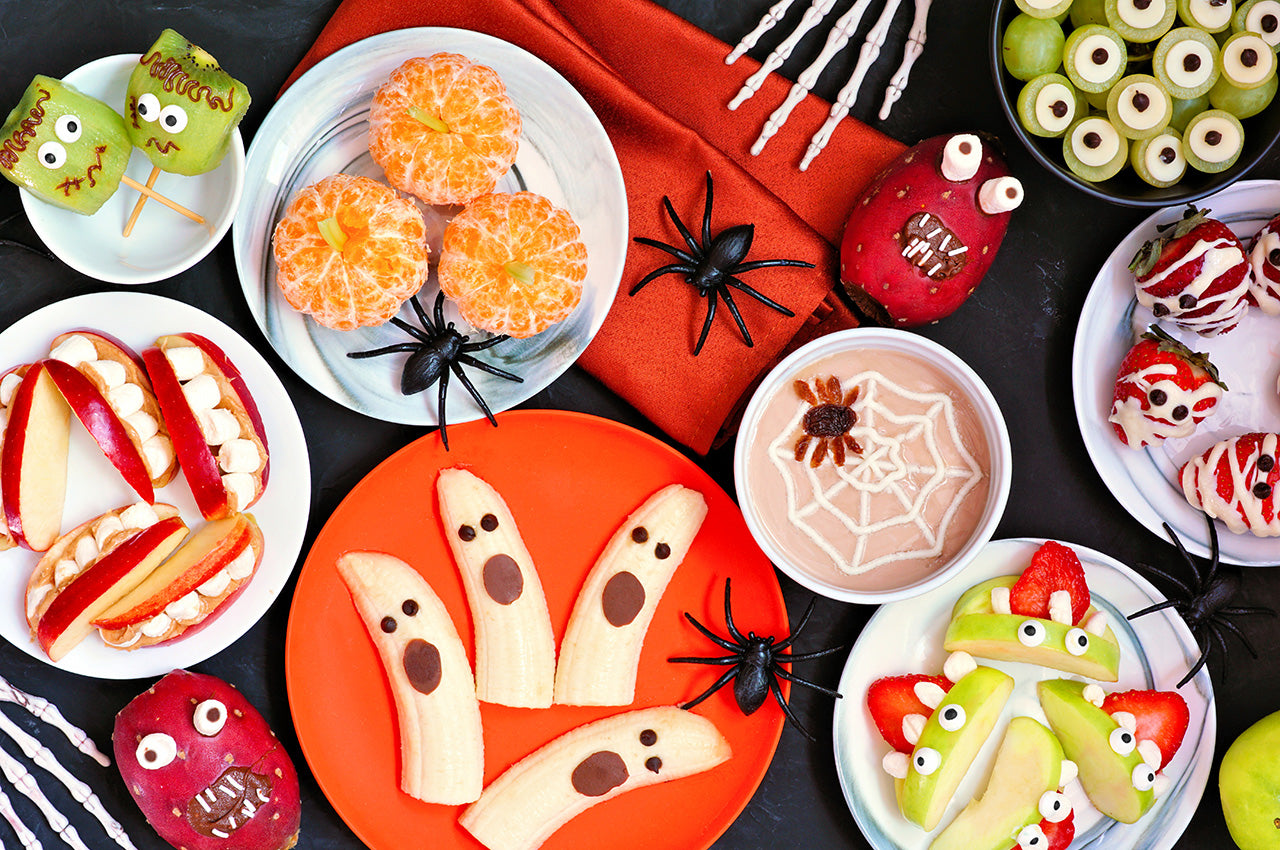 Halloween is a time for costumes, spooky decorations, and, of course, treats! While indulging in candy and sweets is a tradition, it's also a time when many of us worry about overindulging and how it affects our health. 
But fear not! You can still enjoy Halloween while adding in healthier choices that won't leave you feeling guilty.. 
Here are some clever Halloween hacks for treats that are both nutritious and delicious!
Fruit Monsters
Transform ordinary fruit into adorable and spooky creatures! Create banana ghosts by simply dipping banana halves in plain Greek yogurt and adding mini chocolate chip eyes. Turn clementines into pumpkins by drawing jack-o'-lantern faces with a non-toxic marker or adding small pieces of celery for stems. These fruity treats are a great source of vitamins and fiber. 
Nut Butter Spiders
Get creative with your nut butters and create spider sandwiches. Spread almond or peanut butter on whole-grain crackers and use pretzel sticks for legs. Top it off with raisins or cranberries for eyes for a fun protein-packed snack.
Spooky Trail Mix
Create a Halloween-themed trail mix that's both enjoyable and nourishing. Combine whole-grain cereal, pumpkin seeds, dark chocolate chips, dried cranberries, and a sprinkle of cinnamon. Package it in individual bags or containers for a grab-and-go snack during trick-or-treating or as a healthier alternative to candy.
Veggie Jack-O'-Lanterns
Carving pumpkins isn't just for making spooky faces. Hollow out small orange bell peppers and carve them into mini jack-o'-lanterns. Fill them with hummus or a yogurt-based dipor add carrots or broccoli to give them "hair"! These Jack-O'-Lanterns make for a yummy, yet healthy and fun snack. 
Monster Mouths
Create monster mouths using apple slices, nut butter, and almond slivers. Spread nut butter on one side of two apple slices, then place almond slivers between them to create "teeth." 
Dark Chocolate Dipped Strawberries
Indulge your sweet tooth with a healthier twist by dipping strawberries in dark chocolate. Dark chocolate contains antioxidants, so bee sure to choose a dark chocolate that is made with at least 70% cacao powder, as it is also lower in sugar. These make for an elegant and guilt-free dessert option.
Remember, Halloween is about fun and enjoyment, and these healthier treat options allow you to celebrate without any guilt. Whether you're hosting a spooky party or preparing treats for the little ones in your life, these Halloween hacks will provide everyone with a wholesome Halloween treat. 
Interested in more Halloween-themed spooky treats? Check out these protein-packed ideas.