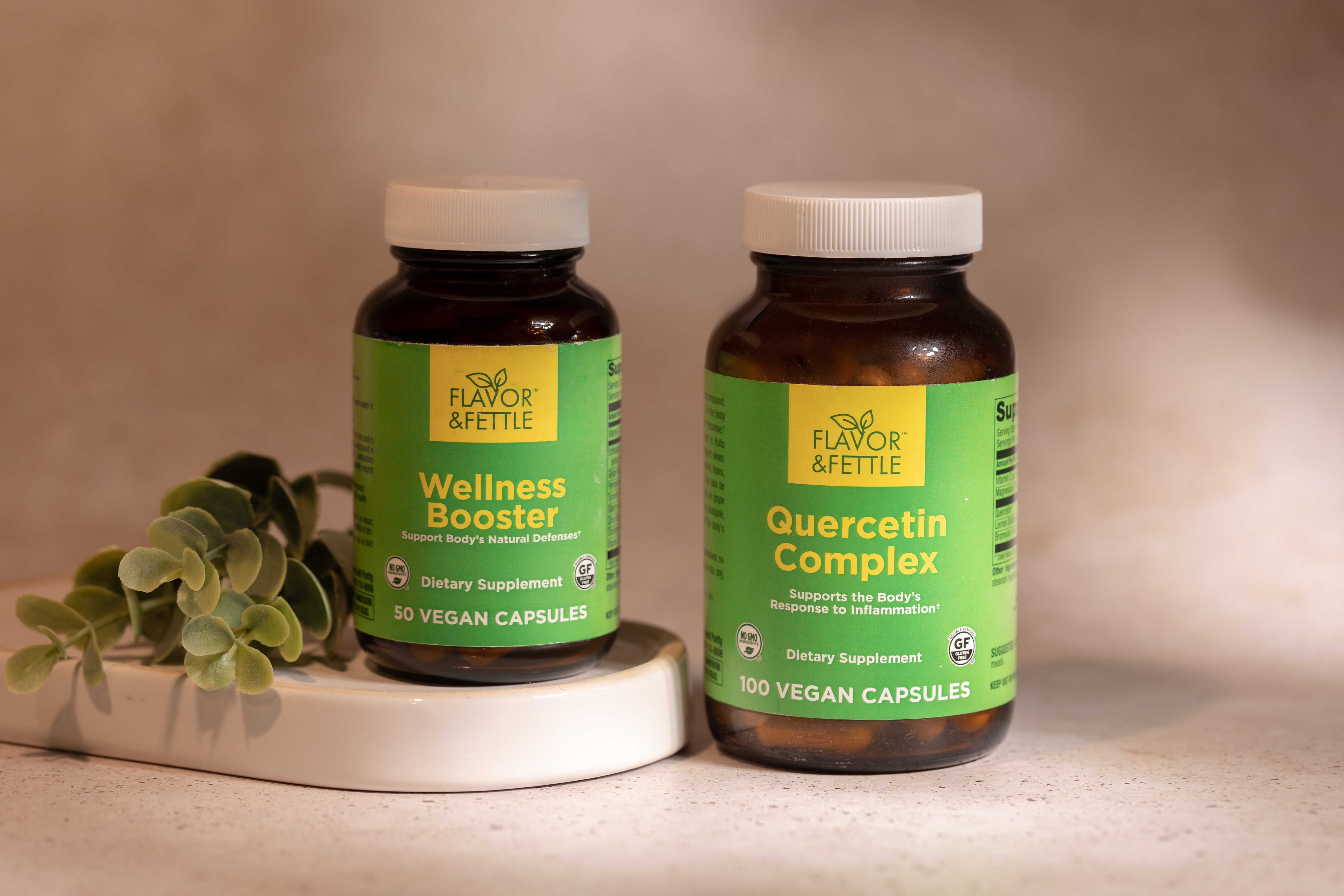 Revitalize
About Immune Support Bundle
Product Description
About Revitalize
Product Description
Support the body's natural defenses from the cellular level with Turmeric, Echinacea, and Ginger, which may support respiratory health and white blood cells, the immune cells. Flavor & Fettle's Wellness Booster also includes Vitamin C from acerola cherry along with pomegranate, bilberries, citrus antioxidant complex, cranberry, and carrot.

Flavor & Fettle Quercetin Complex contains Vitamin C, Magnesium, Lemon Bioflavonoid and Bromelain from pineapple to support the benefits of Quercetin in the body. Combined this may support symptoms that are common with seasonal weather changes.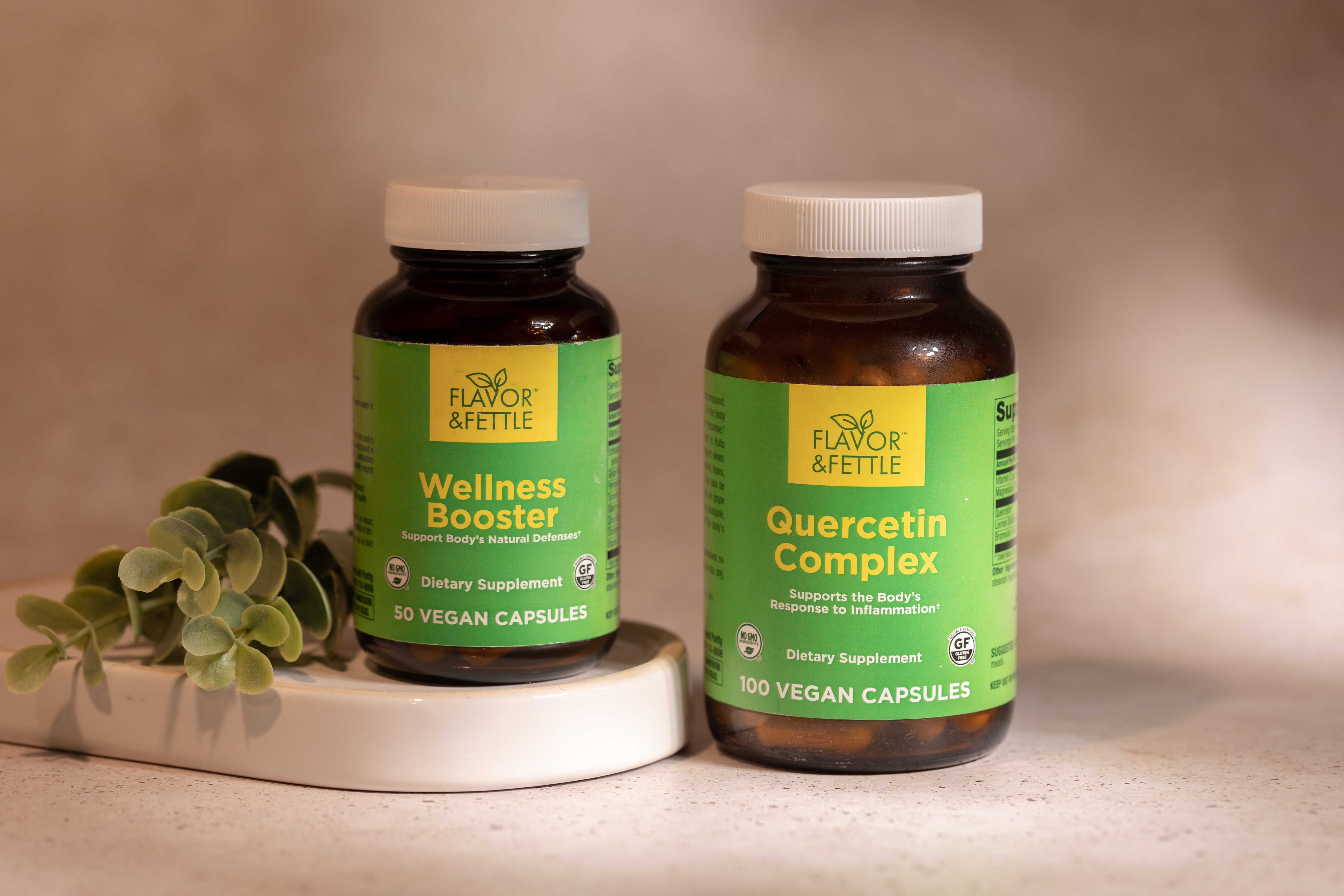 About Revitalize
Do you feel simultaneously overwhelmed & immobilized by the onslaught of health info available today? Or, maybe you just feel disconnected from your body & what it needs to feel its best.
That's why we designed Revitalize. This online, self-paced 6-week detox course designed to reconnect and reintroduce you to healing foods, nourishing herbs, and lifestyle hacks so you can feel empowered, confident, and hopeful in your relationship with food.
Each week in the Classroom, we'll take a holistic look at various organ systems, learning how those organs function in the landscape of your body & what they need to thrive. You'll also receive:
Practical nutritional, herbal, and lifestyle tips
Tasty, simple recipes
Helpful handouts
20% Discount on Flavor & Fettle Revitalize Supplement Bundles
Want to learn more about Revitalize? Click here.
Do you long to reconnect with healing foods, herbs, and habits?
We're here to help. Learn more today.
Questions?
We've got answers
How are Flavor & Fettle supplements sourced?
Our raw ingredients are sourced from all over the world from non-GMO crops and are tested for their purity before inclusion in our supplements. Each ingredient is carefully selected to ensure the potency and quality standards stated on the labels.
Is there research to support this supplement's efficacy?
You can find information about how the raw materials and active ingredients function in the body through our Resource Pages.
Can I use my FSA/HSA/HRA to purchase this supplement?
We do not accept flexible spending accounts (FSA), health savings accounts (HSA), or health reimbursement accounts (HRA) as a form of payment. Your supplements may be eligible for reimbursement, but you will need to check with your insurance provider for your plan's reimbursement requirements.
Thank you for taking the time to leave a review. To be sure it meets our community guidelines, please refrain from making any specific medical claims in your comments.
Uniquely you...
Recommendations to
power

your life

No two bodies are the same, so a one-size-fits-all approach to health just doesn't make sense. Our in-house clinical nutritionist has designed kits and supplement recommendations for your unique needs and health goals. Complete our short quiz to receive a custom consultation.